Farmers' markets have become all the rage for those wanting to shop local, farm-fresh, and natural. The eclectic district of North York — in Toronto, Ontario, Canada — has no shortage of these farm-to-table stores and stands. If you are searching for some of the freshest local produce and finest artisan products in Toronto, check out this complete guide to North York farmers' markets.
North York Farmers' Market
Come meet local farmers and vendors at the North York Farmers' Market. Located on Yonge Street, this farmers' market is the ideal place to shop for fresh fruits, vegetables, honey, and maple syrup. The Market's produce selection varies based on the season as well. In early summer, you can find strawberries, asparagus, and rhubarb. In the fall, an abundance of pumpkins and squash are available. Some of the vendors that sell produce are Willowtree Farms, Thames River Farms, and Jack's Farm. You can buy maple syrup from McCamus Maple Syrup and honey from Elfsong Apiaries.
North York Farmers' Market has an outstanding selection of pastries, bread, cheese, and cured meats too. Motherdough Bakery sells organic pastries and De La Terre is a specialty bakery. For artisan meats and gourmet cheese, check out Superior Meats. The most unique vendors at North York Farmers' Market are Mad Mexican, which sells salsas and dips, and Persian Empire, which crafts premium quality beers. North York Farmers' Market is also the place to go if you are looking for a beautiful bouquet of hand-picked flowers.
Want to keep up with the latest market news? Submit your email on the Market's website to receive information about featured products and event happenings. North York Farmers' Market is open every Thursday from 9 a.m. to 1 p.m. from May to October.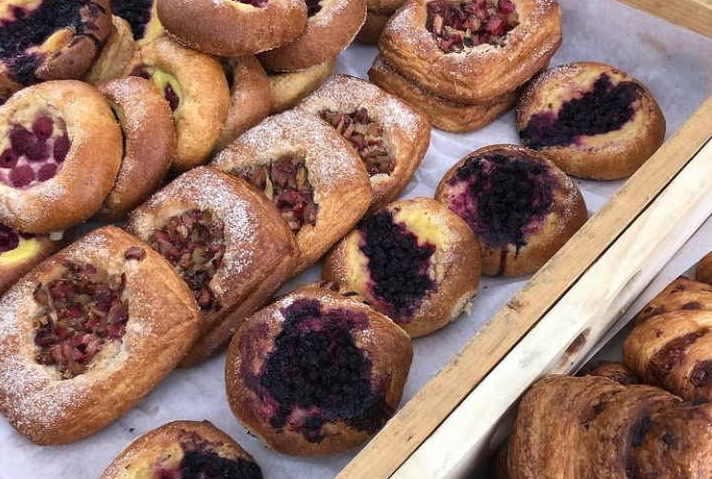 Photo: North York Farmers' Market
Woodbridge Village Farmers Market
A non-profit organization, the Woodbridge Village Farmers Market is run by a group of volunteers. This farmers' market is also affiliated with the Woodbridge Agricultural Society, as its team believes in the importance of local farms, the environment, and nutritious foods. The Market's vendors have all been selected with great care based on the quality of their products and use of local ingredients. Pick out some farm-fresh fruits and vegetables from E.F.T. Farms, or grab a jar of honey from Dickey Bee Honey. Bianca's Meats and Treats sells cured meats, sausages, and artisan cheeses, while AE Natural Meats offers grass-fed beef, lamb, and chicken.
In the mood for a warm lunch dish while at the Market? Check out Weetas Empanadas or Crave Catering, which makes meat pies, soups, and dumplings. If you have a sweet tooth, you'll want to stop by Yummo Market for pies and strudels made with local fruits. The Woodbridge Village Farmers Market is the ideal place to spend a peaceful Saturday morning with friends and family. The Market is always accepting new volunteers who are interested in helping out as well! The Woodbridge Village Farmers Market runs every Saturday from 9 a.m. and 1 p.m. between June and October.
York Farmers Market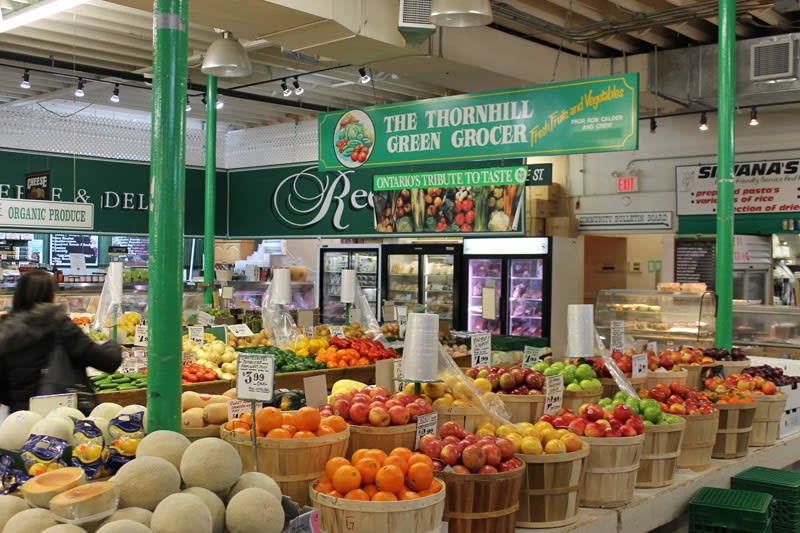 Photo: York Farmers' Market
Since 1953, York Farmers Market has been offering the local community farm-to-table food and hand-crafted products. Located in the historic town of Thornhill, York Farmers Market has 19 vendors, some of which have been selling at the Market for over 40 years. You can buy staple produce items at The Thornhill Green Grocer, as well as creative floral bouquets at Thornhill Market Florist. For homemade baked goods, check out Steeles Bakery, Hansen's Danish Pastry, or Cobs Bakery.
Craving some Mediterranean food? Grab a bite at It's All Greek to Me, Nathan's Kitchen, or Silvana's D'lites. York Farmers Market also has a couple of vendors that sell items you don't usually find at your typical farm stands. Sam the Mango Man sells a wide variety of South African dried fruits and nuts, and Squeeze-It Juice Bar makes freshly squeezed juices to order. If you're looking for goodies or gifts that are non-food items, Green Moon Monday sells custom jewelry, and Gifts For You has gift-wrapped fashion scarves and crystal pieces.
York Farmers Market is open Thursdays and Fridays from 10 a.m. to 5 p.m., Saturdays from 9 a.m. to 4 p.m., and Sundays from 11 a.m. to 4 p.m.
G.P. Farm & Garden Centre
Established in 1978, G.P. Farm & Garden Centre is a small and personable store run by a husband and wife team. For over 40 years, this hands-on farmers' market has grown high-quality products while providing upbeat and helpful service.
G.P. Farm & Garden Centre opens every May with an assortment of vegetable and herb seedlings that customers can plant to start their own gardens! Try your hand at growing tomatoes, kale, zucchini, eggplant, jalapeno, or herbs. The Garden Centre season ends in June so that the family can gear up for their Farm Market by tilling the land and planting produce seeds. By the end of July, G.P. Farm & Garden Centre turns into a full-blown farmers' market with fruits and vegetables growing in the fields behind the store. Some produce is brought in from other local family farms as well, such as Niagara Fruit and Ontario Vegetables. Produce from G.P. Farm & Garden Centre is available up until November. The store also sells triple mix and manure throughout the summer season for those who need supplies for their home gardens or yards.
G.P. Farm & Garden Centre's hours are Wednesday through Saturday from 10 a.m. to 5 p.m., and Sundays from 10 a.m. to 4 p.m.
Downsview Park Merchants Market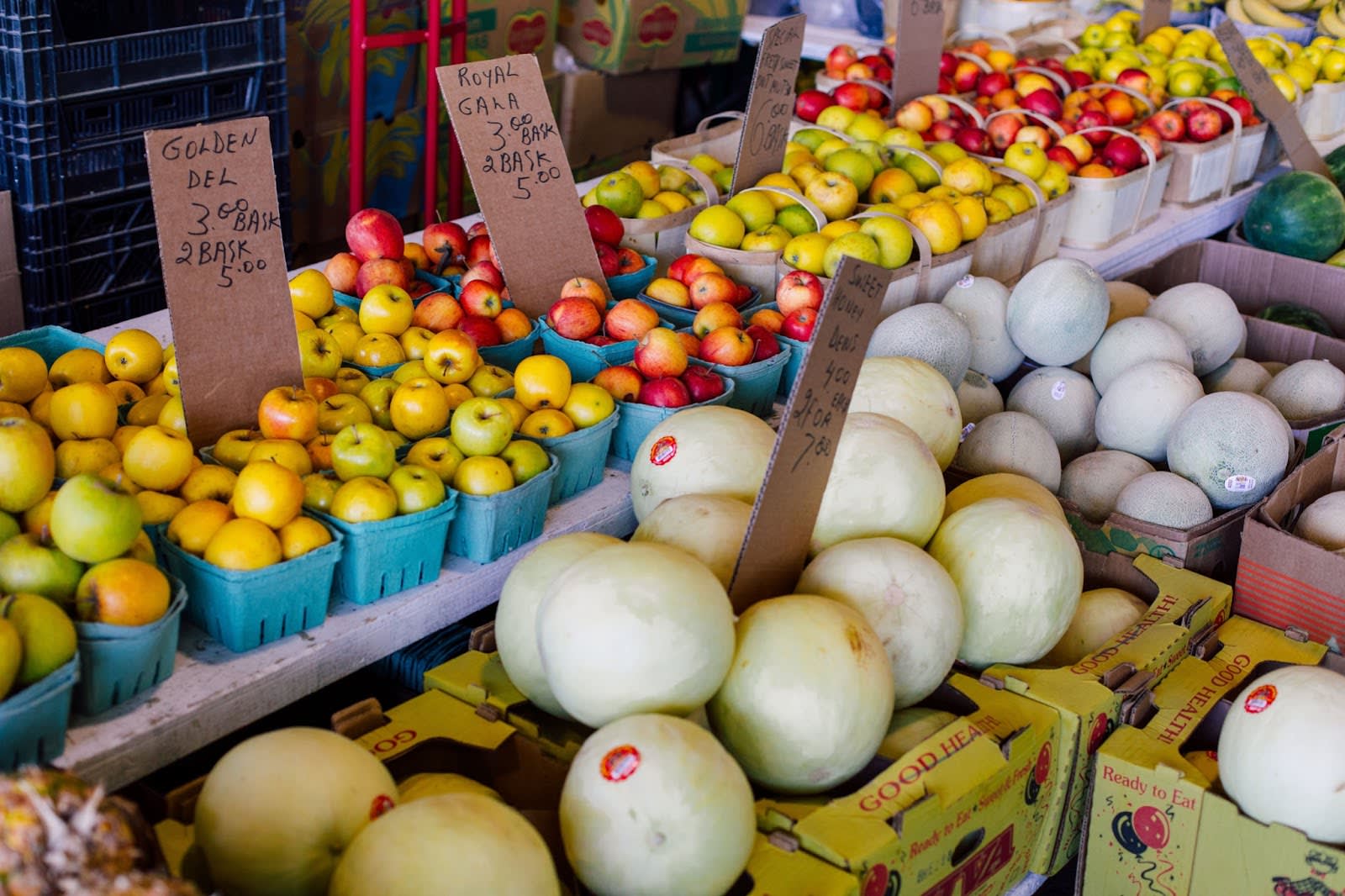 Photo: Downsview Park Merchants Market
Family-owned and operated for over ten years, Downsview Park Merchants Market encompasses a farmers' market, an indoor market, a food court, and an arcade. The farmers' market at Downsview Park features five local farming vendors. Open every Saturday and Sunday from 10 a.m. to 5 p.m., these terrific farmers offer some of the best fruits and vegetables in Ontario.
From apples to melons, and carrots to peppers, the Downsview Park farmers' market has all types of produce at great prices. Antique booths are also open on the weekends. From 10 a.m. to 6 p.m, seasoned antique vendors sell a variety of vintage collectible items. You will find many different products and services inside Downsview Park Merchants Market as well. If you are looking to shop, there is home decor, cosmetics, handbags, cookware, lighting, and toys. Services provided include tailoring, electronic repair, jewelry repair, and a hair salon.
For unbeatable deals without retail prices, the Downsview Park indoor market is the place to go. If you get hungry amidst all the shopping, stop by the Market's food court! With a variety of different ethnic foods, the international food court represents the multiculturalism of North York. The food court at the Market offers Jamaican, Mediterranean, Peruvian, Chinese, Mexican, Indian, and Afghani cuisines.
If you are looking for a place to entertain the kids while you shop, Downsview Park Merchants Market has a Kids Zone too! The arcade features nostalgic games that give out tickets kids can redeem for prizes. Located in the heart of Downsview Park, this Market is a one-stop-shop for all your needs.
Sharon Soltanian Real Estate
If you live in the district of North York and are looking to buy or sell a home, contact real estate agent Sharon Soltanian. Sharon is a dependable and compassionate professional for whom real estate is a passion and lifestyle. Whether you're interested in Willowdale estates, Newtonbrook condos, or Bayview Village homes, employ the high-class quality services of Soltanian Real Estate Inc. Brokerage.